Wednesday, August 23rd, 2023 By Jack Kiyonaga | Editor
More Clean Energy Techs for Molokai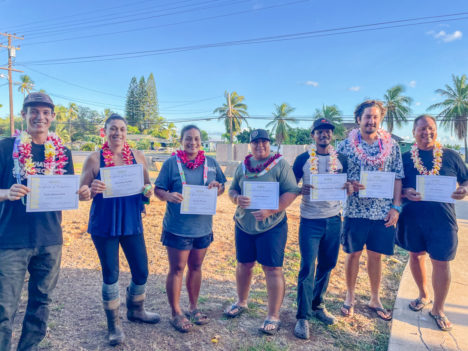 "It was the chance of a lifetime," said Christina Bethke, one of the 12 Molokai residents who are now qualified to work as clean energy technicians.
"I lived off the grid my whole life," explained Bethke who was born and raised on a homestead. "Solar was my passion for decades now."
Bethke and the other Molokai students just finished a four-month, fully-funded intro to photovoltaic training course put on by the Ho'ahu Energy Cooperative Molokai (HECM). The training was a hybrid of curriculum-based and hands-on learning, explained HECM's training and workforce developer Liliana Napoleon, M.B.A.
Napoleon explained that the course was intended to educate both in life skills and job opportunities, allowing graduates to transition from a "typical on-grid lifestyle" to an "energy farming lifestyle."
Graduates of the program are now able to install rooftop solar, build micro and nano grids, and work with on-island renewable energy companies. This is the second cohort of clean energy technicians that HECM has graduated. The course was taught by Molokai's Todd Yamashita, and supported by Project Assistant Leimana Ritte-Camara, as well as the HECM board members.
The students ranged greatly in age, from 17 to 72, with the group being "female dominated with a high influx of homesteaders," said Napoleon.
For Napoleon, this gender breakdown makes sense because in the "dynamic of the homestead lots, a great portion are leases that are being held by females," she explained, and the program was looking at "bringing this training in specific to homesteaders on this island."
Bethke described how solar could make a big difference quickly, especially for families who haven't had the luxury of consistent electricity.
"The majority of my family still live on homestead and off grid," said Bethke. "Solar has been very important to us."
"Having a kid without electric is really rough…but, we make do, we're tough," explained Bethke. Even just the act of just turning on a light switch, "no one really knows the amount of gratitude I have for that."
Bethke explained that they recently completed a 24-volt rooftop solar installation at the Camara's homestead, which is capable of running big electronics, like a refrigerator, all day.
"To have something on a homestead run 24 hours is unheard of," she said.
Now, Bethke is looking at taking her training into the growing clean energy job market.
"Get your foot in the door now before it really booms," she said.
Molokai community members who are interested in becoming a clean energy technician can contact [email protected] to learn about future educational opportunities.
Energy Department Awards $1.2 Million in Funding for Storage Social Equity Initiative
JUNE 26, 2023
Energy Department Awards $1.2 Million in Funding for Storage Social Equity Initiative
Program Will Help Disadvantaged Communities Meet Energy goals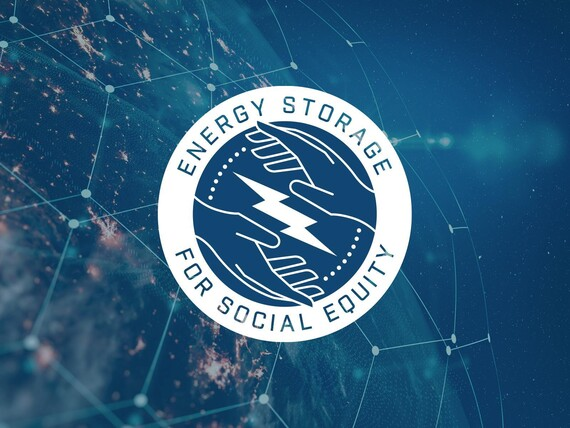 WASHINGTON, D.C. —The U.S. Department of Energy's (DOE) Office of Electricity (OE) today announced it selected four organizations to receive funding under the Energy Storage for Social Equity (ES4SE) Initiative. ES4SE is designed to empower disadvantaged communities to consider energy storage technologies as a viable path toward achieving their energy goals.
"These organizations are fully engaged with ES4SE to find energy storage solutions in their communities," said Gene Rodrigues, Assistant Secretary for Electricity. "OE is proud of our ES4SE partners, because we believe their participation will result in improved resilience, energy affordability, and prosperity where they live."
The following are the recipients of this initial round of Project Development and Deployment Assistance (PDDA) cost-share funding:
Native Renewables Inc. has a long history of partnering with households in the Navajo Nation and the Hopi Tribe to install off-grid residential photovoltaic plus battery energy storage system (PV+BESS) for homes without access to the electric grid. Native Renewables will work with households for selection to install PV+BESS that will include remote monitoring of the battery systems.
Hoʻāhu Energy Cooperative Moloka'i (HECM) is deploying residential islanded solar and battery storage nano-grids to fifteen households in the Moloka'i community. ES4SE will support a BESS, inverter and controls, remote monitoring equipment, and look at ways to partner with HECM's workforce development program.
Coast Electric Power Association (CEPA) is working with the Hancock County Utility Authority (HCUA) to install a BESS for one of two wastewater treatment plants. The BESS will support small solar farms for three of HCUA's wastewater treatment plants and connect to a voltage distribution loop serviced by CEPA for one day of resilience.
Ayika Solutions Incorporated and Capital to Coast Collaborative partners will deploy a BESS for the Harambee House Resiliency Hub in Savannah, Georgia in conjunction with Creative Solar, who will supply and install the solar PV array for the project. In a power outage or other emergency event, the Harambee House is projected to serve 25–35 local residents by providing heating, air conditioning, refrigeration, lighting, Wi-Fi, and phone charging.
About ES4SE
OE supported two of DOE's national laboratories—Pacific Northwest National Laboratory (PNNL) and Sandia National Laboratories (Sandia)—to develop ES4SE.
The first phase of ES4SE—Technical Assistance (TA)—launched in March 2022 with $2 million in funding. OE selected fourteen communities to participate in a comprehensive and personalized TA program, led by PNNL. An initial four communities have been selected for the PDDA phase, led by Sandia. This phase includes project cost-share assistance. Sandia will also provide technical support, including requests for proposal development, system installation and commissioning guidance, system safety reviews, and local first responder safety training for participants throughout the PDDA.
Additional selections for PDDA cost-share from the remaining 10 communities may be made during the fourth quarter of fiscal year 2023.
Learn more about OE's work here.
Native Hawaiians reclaim energy sovereignty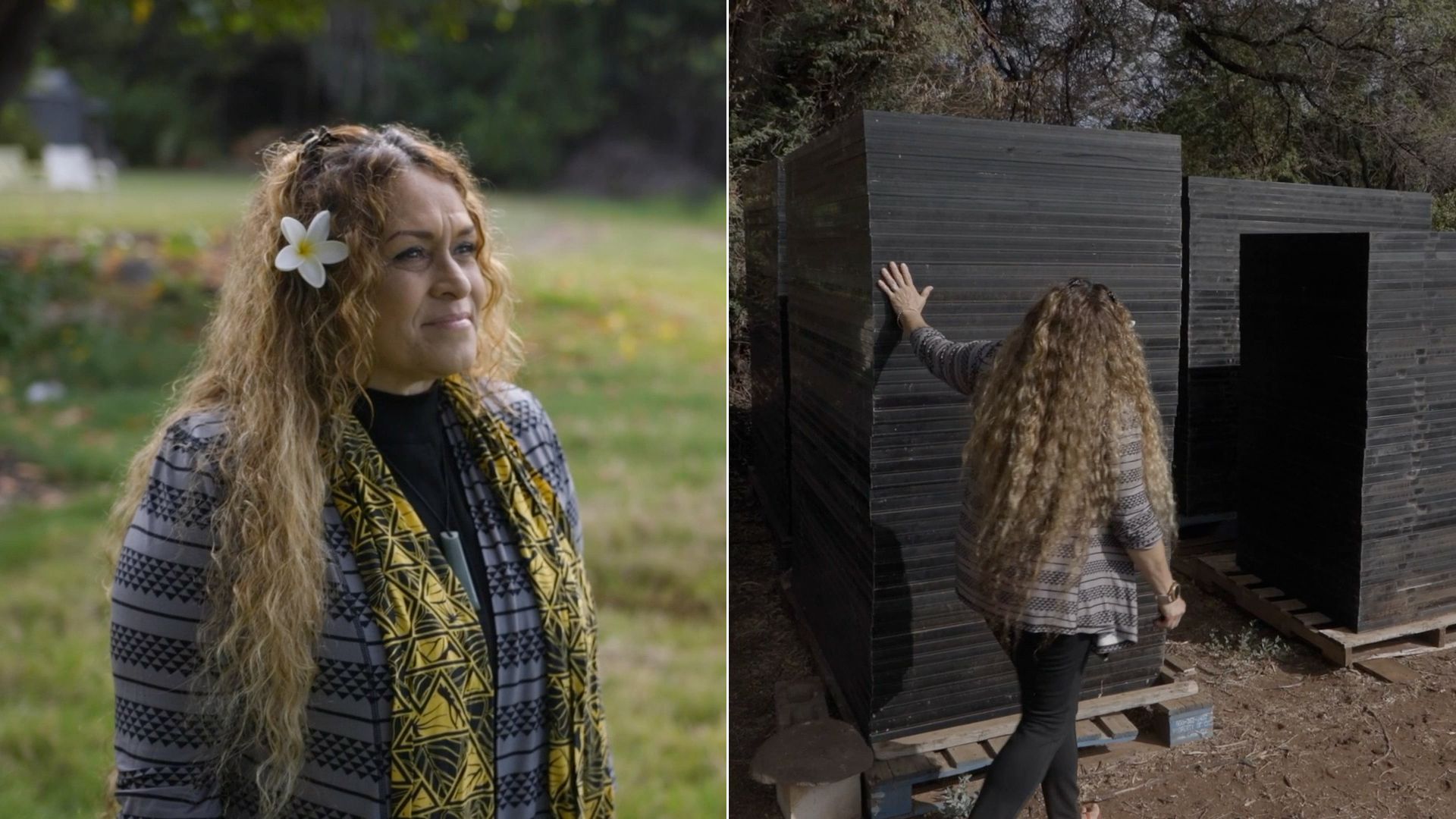 On the Hawaiian island of Moloka'i, a group of volunteers is tirelessly working toward 100% locally owned clean energy.
Why it matters: They are reclaiming energy sovereignty for the area's largely Native Hawaiian population.
How it works: Since launching in 2020, the Ho'āhu Energy Cooperative has installed rooftop solar panels on a handful of off-grid homes, trained local residents to become solar installers, and secured a contract awarded for Hawaii's first community-owned renewable energy resource project.
The latest: Last month, the volunteer organization submitted the Pālā'au Solar and Kualapu'u Solar projects contract to the Hawaii Public Utilities Commission, with a decision expected by the end of the year.
Public benefit corporations Shake Energy Collaborative and Mana Pacific are signed on as project developers.
Representatives of Ho'āhu tell Axios that, if approved, these projects will serve around 1,500 households or 20% of the island's population of about 7,400.
What they're saying: "We can build the best project that has the least amount of harm to our environment, because we understand, as a people, how important our environment is. We depend on it," Ho'āhu Energy Cooperative's co-founder "Aunty" Lori Buchanan tells Axios.
Buchanan, who is Native Hawaiian from Moloka'i, cites how burning fossil fuels for energy consumption drives climate change, which she sees as affecting the food security of her community.
Meanwhile: Buchanan is quick to point out that Hawaiian Electric, which is headquartered on another island, is currently the only supplier of grid electricity on Moloka'i.
"When I think about energy equity, I think about the one energy provider having that control, over a people that don't have control," Buchanan says. "It's like oppression to me."
State of play: In 2014, Hawaii set a goal of 100% renewable energy for electricity by the year 2045, becoming the first U.S. state to do so.
According to their own estimates, Hawaiian Electric reported reaching 32% in electricity generated by renewable resources in 2022.
Zoom in: Hawaii had the highest household electricity price among U.S. states last year, according to 2023 Statista data, with electricity rates surging statewide by 34% in April, compared with 2021 costs, per the New York Times.
Yes, but: Ho'āhu's project developer Shake Energy Collaborative's Ali Andrews tells Axios they're aiming for at least 20% savings for subscribers of the pending community solar projects.
More than 20% of the island's residents live below the poverty line, per the 2021 census.
Zoom out: Kilia Purdy-Avelino, a Ho'āhu Energy Cooperative volunteer board member, tells Axios she has lived off-grid on a Moloka'i homestead — or ancestral trust land set aside for Native Hawaiians through federal legislation — for nearly a decade.
At first, her family relied on an at-home solar system for charging smaller appliances — until it stopped working, which saw them switching to power supplied by generators. (Those also broke down repeatedly, which was costlier than she expected.)
The intrigue: Having recently completed Ho'āhu's micro-grid training program, a big difference she's seen with the cooperative is how Native Hawaiian homesteaders have been involved from "the very beginning."
"In the past, organizations overstepped … whether they [were] aware of our homestead organizations or not, they sometimes just [went] after the land," Purdy-Avelino says. "We wanted to be proactive and have representation."
The bottom line: "Traditional Hawaiian culture, that's the way it was. You don't do things for yourself," Purdy-Avelino tells Axios. "'Laulima' means 'many hands.' Everybody helps each other, so everybody moves forward together."
Training Brings Local Energy Expertise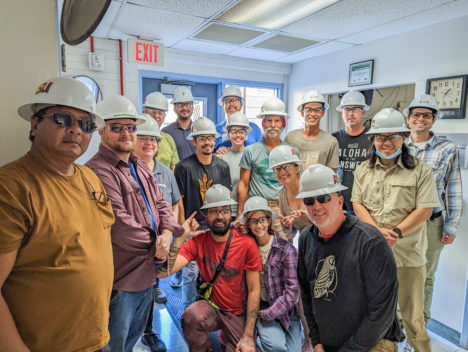 03.08.2023
MOLOKAI DISPATCH-Through the Molokai's Ho'āhu Energy Cooperative, nine residents are now qualified to install solar panels and migro-grid technology.
These newly certified graduates will be essential in reaching the state's goal of 100 percent renewable energy by the year 2045, as well as responding to Molokai's current energy and economic needs.
The Molokai trainees attended online and Zoom classes hosted by Arizona State University, before heading off to Arizona for a week of hands-on training. The trainees were all Molokai community members who "had shown an interest in the industry," explained Ho'āhu Program Coordinator Liliana Napoleon.
Molokai trainees were educated in "understanding safety protocols, reading manuals…stringing solar panels together, and understanding all the components of micro-grids. The part that really stood out to all of us were the real-life applications," said Cara Fitzpatrick, one of the nine Molokai trainees to receive their certificate.
Even a small micro-grid "could give their house lights and charge their phones and maybe even power a DC water pump and a freezer. You can really tailor a system to someone's needs," explained Fitzpatrick.
Specifically, this work is part of a larger project in partnership with Hawaiian Electric to bring a "community based renewable energy project to the island, in which those projects will have work for micro-grids," said Napoleon. The benefit of these smaller solar grids is that they can better serve the individual needs of residents.
Currently in the planning phase, CBRE projects in Pala'au near the power plant and in Kualapu'u will "provide renewable energy at the community-based level, which means those who may not have the capacity or capital will still be able to reap the benefits of renewable energy," said Napoleon.
The newly certified Molokai solar technicians will be helping build and maintain this community venture.
A community-based approach could provide more flexibility and individualization for energy needs because it is subscription based, particularly for renters or those unable to install rooftop solar on their own homes.
The Coop will assume the economic cost and risk of installing solar grids, explained Todd Yamashita, president of Ho'ahu Energy Cooperative. This model allows residents to "subscribe" to a communal renewable energy system. This will keep the money invested into solar on-island.
"Molokai has the lowest consumption of energy per capita anywhere in U.S., and yet has some of the highest utility rates," explained Yamashita.
For Yamashita, focusing on renewables isn't just economically viable, but demonstrates the reality of living in place like Molokai, where resources are limited.
"We strive to be independent because we have to be," said Yamashita. "We all have to help ourselves."
Ho'āhu Energy Cooperative has another solar certification course for 20 Molokai residents coming up in May. Partnered with Makaha Learning Center on Oahu, the subsequent course will focus on "Solar 101 plus Hawaiian Culture on Molokai," explained Yamashita, as the Coop looks toward future jobs and opportunities in the energy sector.
While Molokai may at a disadvantage when it comes to high energy costs, the island also has an opportunity to lead in CBRE.
"If it can happen anywhere, it will happen here," said Yamashita.
Molokai Clean Energy Technicians at
Arizona State University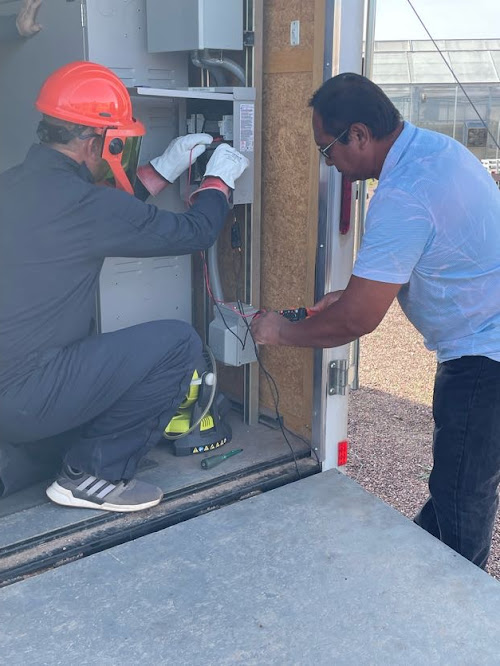 Residents Get Renewable Energy Certification
06.15.2022
MOLOKAI DISPATCH – Locally-run Ho'ahu Energy Cooperative Molokai held an inaugural Clean Energy Technician Training this spring, with 14 Molokai residents graduating with certification. The five-week course covered an introduction to photovoltaic energy, with a 40 hours of hands on build time during which students received on-site experience and skills building nanogrids, or small scale solar systems.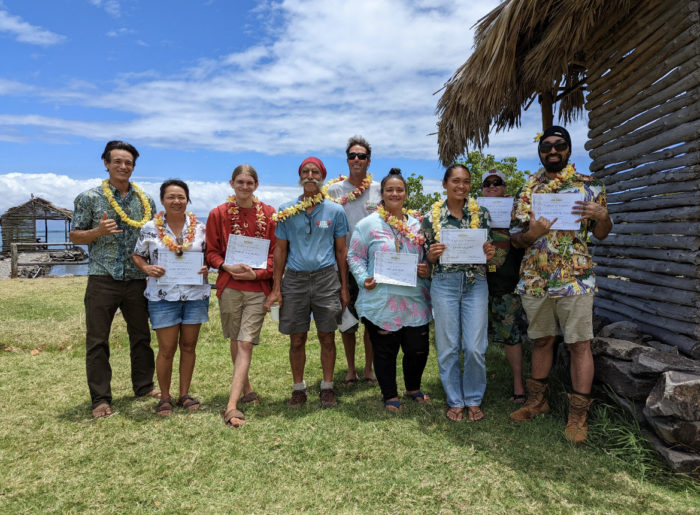 "The state has a goal to transition to 100 percent renewables by 2045 and Molokai still has almost the entire way to go," said Todd Yamashita, board president of Ho'ahu Energy Coop and instructor for the course. "What we're doing here is helping ourselves and getting ready for this transition so that it will be our Molokai people who will benefit from these jobs. Because of our isolation, having to fly crews in for installations makes everything in the renewable space much more costly for us than anywhere else. So having our Molokai people trained and job ready is a must."
Students were also trained in first aid, CRP and a 10-hour OSHA course for safety in the workplace. Ho'ahu staff say the newly-certified graduates will be eligible for internships with the cooperative, employment with renewable energy contractors, installing solar for their own home usage and entrepreneurial efforts.
A graduation ceremony was held on May 27.
"I really want to give a ton of credit to this program to our program coordinator Liliana Napoleon," added Yamashita. "Through her efforts, we've partnered with Maui County and Makaha Learning Center to roll out this nationally certified program in less than a year."
The training is offered free of charge to Molokai residents ages 18 and older.
"The renewable energy skills, experience, and networking along with access toward employment and entrepreneurial opportunities for our graduates are endless," said Napoleon.
If you are interested in Ho'ahu's upcoming renewable energy trainings and workforce opportunities, visit their website at hoahuenergy.coop or email [email protected].
03.23.2022
Moloka'i Clean Energy Cooperative Selected To Receive Federal Support
Department Of Energy To Provide Expert Assistance To Support Moloka'i's Community-Developed Clean Energy Goals; Clean Energy Co-op In Running To Compete For Additional Federal Resources
WASHINGTON – U.S. Senator Brian Schatz (D-Hawai'i) today announced that Ho'āhu Energy Cooperative Moloka'i, a local group developing Moloka'i's first community-owned renewable energy resource project, will receive federal support, including technical assistance, from the U.S. Department of Energy (DOE).
"This kind of hands-on federal support will help us expand clean energy production on Moloka'i as the community moves to take its energy future into its own hands. That means more jobs, more reliable energy, and cheaper electric bills for Moloka'i residents," said Senator Schatz.
Ho'āhu Energy Cooperative Moloka'i will receive tailored expert support from Pacific Northwest National Laboratory (PNNL), a DOE National Lab, to address the island's unique energy challenges. During this first phase of the initiative, Ho'āhu Energy Cooperative Moloka'i will receive one-on-one assistance from PNNL, including training, energy and economic analysis, workforce and equity assessments, and grant application assistance. The program also aims to help participating communities develop a network of experts that can serve as a valuable resource even after the technical assistance phase ends. Technical assistance will take place over a ten-month timeframe extending to the end of 2022. After that, Ho'āhu Energy Cooperative Moloka'i may advance to a second phase of assistance, which will involve engineering and budgetary guidance and other technical support for project deployment.
"Molokai, which is 60 percent Hawaiian by population, is challenged with energy rates nearly 400 percent higher than the national average," said Todd Yamashita, president of Ho'āhu Energy Cooperative Moloka'i. "We are excited about this opportunity because it's helping us create, on our own terms, an energy future that is reflective of the resilient and resourceful nature of our people."
The federal support is part of a DOE initiative designed to support communities that experience problems with their energy systems. It aims to mitigate energy access, affordability, and reliability challenges by helping those communities design energy storage solutions.