Training Brings Local Energy Expertise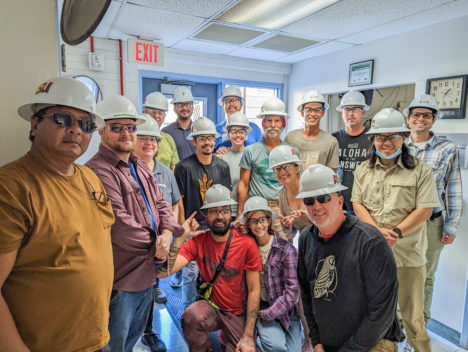 03.08.2023
MOLOKAI DISPATCH-Through the Molokai's Ho'āhu Energy Cooperative, nine residents are now qualified to install solar panels and migro-grid technology. 
These newly certified graduates will be essential in reaching the state's goal of 100 percent renewable energy by the year 2045, as well as responding to Molokai's current energy and economic needs.
The Molokai trainees attended online and Zoom classes hosted by Arizona State University, before heading off to Arizona for a week of hands-on training. The trainees were all Molokai community members who "had shown an interest in the industry," explained Ho'āhu Program Coordinator Liliana Napoleon. 
Molokai trainees were educated in "understanding safety protocols, reading manuals…stringing solar panels together, and understanding all the components of micro-grids. The part that really stood out to all of us were the real-life applications," said Cara Fitzpatrick, one of the nine Molokai trainees to receive their certificate.
Even a small micro-grid "could give their house lights and charge their phones and maybe even power a DC water pump and a freezer. You can really tailor a system to someone's needs," explained Fitzpatrick.
Specifically, this work is part of a larger project in partnership with Hawaiian Electric to bring a "community based renewable energy project to the island, in which those projects will have work for micro-grids," said Napoleon. The benefit of these smaller solar grids is that they can better serve the individual needs of residents.
Currently in the planning phase, CBRE projects in Pala'au near the power plant and in Kualapu'u will "provide renewable energy at the community-based level, which means those who may not have the capacity or capital will still be able to reap the benefits of renewable energy," said Napoleon.
The newly certified Molokai solar technicians will be helping build and maintain this community venture.
A community-based approach could provide more flexibility and individualization for energy needs because it is subscription based, particularly for renters or those unable to install rooftop solar on their own homes.
The Coop will assume the economic cost and risk of installing solar grids, explained Todd Yamashita, president of Ho'ahu Energy Cooperative. This model allows residents to "subscribe" to a communal renewable energy system. This will keep the money invested into solar on-island.
"Molokai has the lowest consumption of energy per capita anywhere in U.S., and yet has some of the highest utility rates," explained Yamashita.
For Yamashita, focusing on renewables isn't just economically viable, but demonstrates the reality of living in place like Molokai, where resources are limited.
"We strive to be independent because we have to be," said Yamashita. "We all have to help ourselves."
Ho'āhu Energy Cooperative has another solar certification course for 20 Molokai residents coming up in May. Partnered with Makaha Learning Center on Oahu, the subsequent course will focus on "Solar 101 plus Hawaiian Culture on Molokai," explained Yamashita, as the Coop looks toward future jobs and opportunities in the energy sector. 
While Molokai may at a disadvantage when it comes to high energy costs, the island also has an opportunity to lead in CBRE.
"If it can happen anywhere, it will happen here," said Yamashita.
Molokai Clean Energy Technicians at
Arizona State University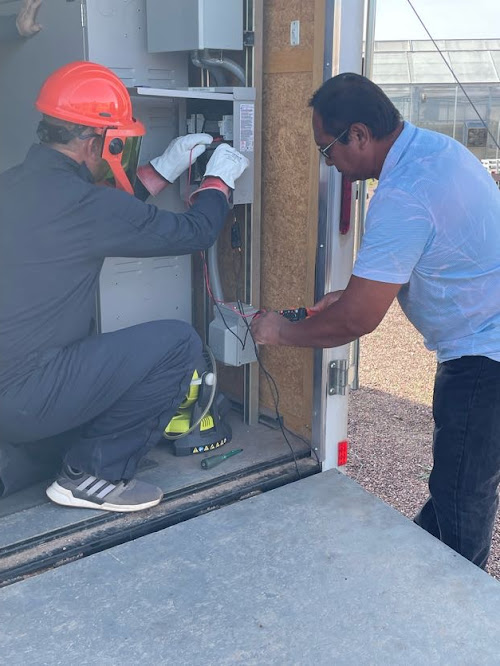 Residents Get Renewable Energy Certification
06.15.2022
MOLOKAI DISPATCH – Locally-run Ho'ahu Energy Cooperative Molokai held an inaugural Clean Energy Technician Training this spring, with 14 Molokai residents graduating with certification. The five-week course covered an introduction to photovoltaic energy, with a 40 hours of hands on build time during which students received on-site experience and skills building nanogrids, or small scale solar systems.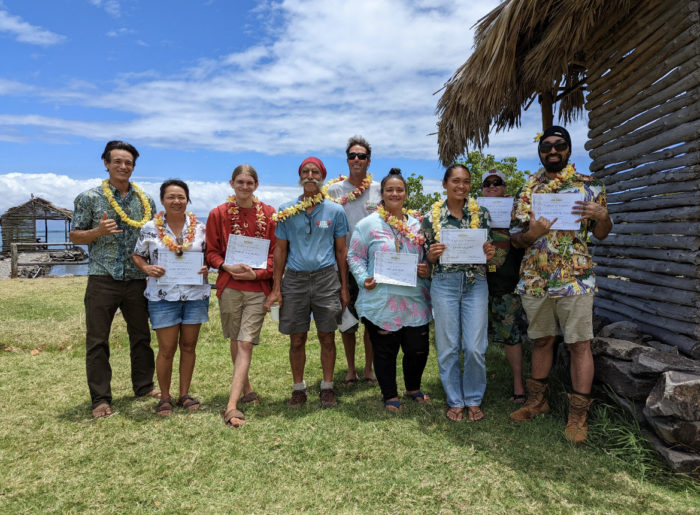 "The state has a goal to transition to 100 percent renewables by 2045 and Molokai still has almost the entire way to go," said Todd Yamashita, board president of Ho'ahu Energy Coop and instructor for the course. "What we're doing here is helping ourselves and getting ready for this transition so that it will be our Molokai people who will benefit from these jobs. Because of our isolation, having to fly crews in for installations makes everything in the renewable space much more costly for us than anywhere else. So having our Molokai people trained and job ready is a must."
Students were also trained in first aid, CRP and a 10-hour OSHA course for safety in the workplace. Ho'ahu staff say the newly-certified graduates will be eligible for internships with the cooperative, employment with renewable energy contractors, installing solar for their own home usage and entrepreneurial efforts.
A graduation ceremony was held on May 27.
"I really want to give a ton of credit to this program to our program coordinator Liliana Napoleon," added Yamashita. "Through her efforts, we've partnered with Maui County and Makaha Learning Center to roll out this nationally certified program in less than a year."
The training is offered free of charge to Molokai residents ages 18 and older.
"The renewable energy skills, experience, and networking along with access toward employment and entrepreneurial opportunities for our graduates are endless," said Napoleon.
If you are interested in Ho'ahu's upcoming renewable energy trainings and workforce opportunities, visit their website at hoahuenergy.coop or email [email protected].
03.23.2022
Moloka'i Clean Energy Cooperative Selected To Receive Federal Support
Department Of Energy To Provide Expert Assistance To Support Moloka'i's Community-Developed Clean Energy Goals; Clean Energy Co-op In Running To Compete For Additional Federal Resources
WASHINGTON – U.S. Senator Brian Schatz (D-Hawai'i) today announced that Ho'āhu Energy Cooperative Moloka'i, a local group developing Moloka'i's first community-owned renewable energy resource project, will receive federal support, including technical assistance, from the U.S. Department of Energy (DOE).
"This kind of hands-on federal support will help us expand clean energy production on Moloka'i as the community moves to take its energy future into its own hands. That means more jobs, more reliable energy, and cheaper electric bills for Moloka'i residents," said Senator Schatz.
Ho'āhu Energy Cooperative Moloka'i will receive tailored expert support from Pacific Northwest National Laboratory (PNNL), a DOE National Lab, to address the island's unique energy challenges. During this first phase of the initiative, Ho'āhu Energy Cooperative Moloka'i will receive one-on-one assistance from PNNL, including training, energy and economic analysis, workforce and equity assessments, and grant application assistance. The program also aims to help participating communities develop a network of experts that can serve as a valuable resource even after the technical assistance phase ends. Technical assistance will take place over a ten-month timeframe extending to the end of 2022. After that, Ho'āhu Energy Cooperative Moloka'i may advance to a second phase of assistance, which will involve engineering and budgetary guidance and other technical support for project deployment.
"Molokai, which is 60 percent Hawaiian by population, is challenged with energy rates nearly 400 percent higher than the national average," said Todd Yamashita, president of Ho'āhu Energy Cooperative Moloka'i. "We are excited about this opportunity because it's helping us create, on our own terms, an energy future that is reflective of the resilient and resourceful nature of our people."
The federal support is part of a DOE initiative designed to support communities that experience problems with their energy systems. It aims to mitigate energy access, affordability, and reliability challenges by helping those communities design energy storage solutions.